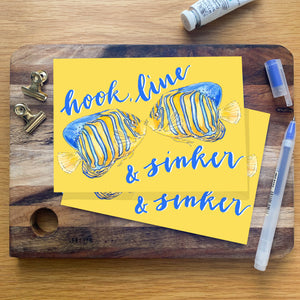 I give you a pair of slightly google-y eyed angel fish having a cheeky kiss. This card is the ideal way of telling someone you've fallen for them (hook, line and sinker) - just like these two.

Valentine's Day is an obvious occasion for these guys, but I'd also back these fish as being 'just the thing' for anniversary wishes, sending love notes (help me bring back proper love letters!), and even for an alternative wedding card.
Angel Fish like these stripy chaps are found in tropical waters in Fiji, Indonesia and the Maldives, so you can imagine you're on a faraway island through this card too.
I loved the contrast of the blue and yellow of these fish so much – it can't help but catch your eye! – that I choose a bright yellow background for the card too. I hope it will be like an extra ray of sunshine when the card is opened.
The cards are A6 size (105x148mm) and are proudly printed in the UK on a glorious 350GSM cardstock – the ideal card thickness, if you ask me! The insides are blank, ready for your words, and each comes with a crisp white envelope.
The cards will be delivered wrapped in tissue and sent in packaging that is fully recyclable and / or biodegradable. Please make sure that you recycle – or better, re-use – the packaging so that we can help do our bit for the planet and the fish!
'Hook, Line & Sinker' is one of four tropical fish cards and you can find the others in the shop if you'd like!
Pick your own pack of cards (set of 5 for £11.50, 10 for £18.50) here.
Plus!
Take advantage of my (free!) send direct service and let me do the hard work. Simply type your message into the 'Add a note to your order' box on the basket page, and make sure to put in the correct shipping address for your lucky recipient, and I'll do the rest - in my best hand writing. You can read more about this service here.