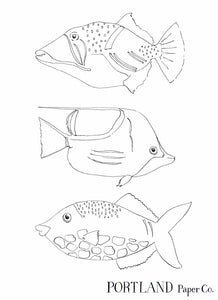 What better way to give your brain a break than with a colouring sheet! This is a free download for a colouring sheet to print at home - and for you to work your creative  magic on.
You can get totally tropical here with these three fish - the colours and patterns on tropical fish like these are totally mesmerising, and perfect for letting your imagination run wild.
Will you go for bright pink polka dots? Or silky stripes? Or a totally out there pattern? The choice is yours - all you need is some coloured pens, pencils, some paints - anything you can find.
Ideal for all the family too.
This is a digital download - a PDF will be delivered to you by email after you check out and you won't receive anything in the post.