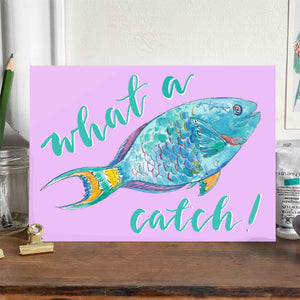 Is there a better way of telling someone you love them than with a brilliantly turquoise parrot fish and a fishy pun? I think not!

I designed this card for non-lovey-dovey lovers, for perfectly solving that dating-but-not-quite-declared-my-undying-love conundrum and for gently reminding your best pals that you've snared them in your net and will never be letting them escape.
I've been fascinated by parrot fish ever since snorkelling with them on the Great Barrier Reef a few years ago, so I hope that you get some totally tropical vibes from this too.
The card is A6 size and is blank inside for plenty of space for your chosen level of gushy message.
As usual, I've chosen a really lovely 350GSM cardstock for these (read – perfectly thick!), paired with a crisp white envelope to match. I'd definitely encourage the use of coloured pens to complement the design too!
The design is created from an original ink and watercolour painting, and the lettering is hand-painted by me too. I'm a big believer that the quality of hand-painting is unbeatable, and that's no exception here.
I'm obsessed with this combination of turquoise and lilac-pink too – now I want to design everything with these colours but must resist!
The card will come wrapped in tissue in fully recyclable and biodegradable packaging. Please make sure that you recycle – or better, re-use – the packaging so that we can help do our bit for the planet (and help these beautiful fish!)
'What A Catch' is one of four tropical fish cards and you can find the others in the shop if you'd like.
Pick your own pack of cards (set of 5 for £11.50, 10 for £18.50) here.  
Plus!
Take advantage of my (free!) send direct service and let me do the hard work. Simply type your message into the 'Add a note to your order' box on the basket page, and make sure to put in the correct shipping address for your lucky recipient, and I'll do the rest - in my best hand writing. You can read more about this service here.